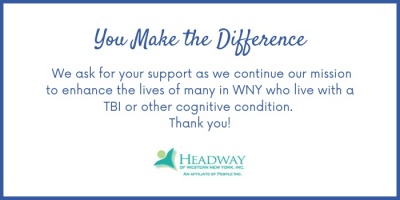 We would like to take this opportunity to thank everyone who is currently a part of our Headway community, as well as those who may be considering joining us at this time.
You make the difference!
We extend our sincere gratitude to all of you – donors, supporters, sponsors, members, associates and friends, because we cannot sustain the Headway mission without you.
Headway offers bi-monthly virtual support groups, one-on-one phone support, outreach, navigation (identification of other community supports), as well as newsletters, e-news, website updates, and social media interaction.
In the coming year, Headway plans to expand its efforts in identifying service gaps for those who have suffered loss due to TBI and other cognitive issues, including neurological effects from Covid, compounded by current economic challenges in Western New York.
Although the TBI and NHTD Waiver programs are funded by the NYS Department of Health, all other Headway services are possible only through community generosity such as yours.
Please consider making a gift of any amount to help ensure continued support services in Western New York.
---
If you prefer to mail a check, please send to:
Headway of WNY, Inc.
2495 Main Street Suite 446
Buffalo, New York 14214

Headway is a non-profit human service agency and
your contribution is tax deductible to the extent allowed by law.